Product Details
| Item | Description | Size | UPC | Retailer |
| --- | --- | --- | --- | --- |
| 8689 | TeleWash | 3-5 ft / 0.9-1.5 m | 039932086899 | SEARCH |
*Sizes reflect the industry standard for extension pole lengths. For the most accurate measurement see SIZE in the chart above.
Regular Pack Quantity 6.
Reviews
Verified Customer
Reviewer
Well constructed brush. I used this product to scrub our outdoor deck. Having the ability to turn the water on and off without missing a beat is great! Well thought out, well made item that does what it says it will. If
...
Show More
2 years ago
Verified Customer
Reviewer
Life saver for painted patio!!!! Awesome!!!! We have a painted concrete patio that we can't power wash, so this brush is a lifesaver!!!! Wish I took a before picture of the dirt stains everywhere, but trust me when I sa
...
Show More
3 years ago
Verified Customer
Reviewer
This was a used item but in excellent shape.
Worked well in cleaning my shed in cleaning my shed in preparation for painting. Good value. Price new at Lowe's was $10 more.
-- DD (via Amazon, September 18, 2018)
5 years ago
Verified Customer
Reviewer
Easy to use.
Works like a charm, provides good water flow and good angles for washing.
-- EG (via Amazon, November 16, 2017)
6 years ago
Verified Customer
Reviewer
Effective tool!
I like the design. It did a great job scrubbing and washing moss and dirt our composite deck.
-- CE (via Amazon, September 22, 2016)
7 years ago
Telewash II
is the perfect deck cleaning tool. It quickly cleans many outdoor surfaces including wood decks, composite, brick, stone, tile and concrete. It won't damage wood the way pressure washers can and its stiff bristles gently remove stubborn dirt while the water washes it away. Use Telewash with a deck cleaner to help bring back woods' natural beauty and prep it for staining. Use a deck wash that can be purchased from the nearest hardware store or make your own homemade deck wash with recipes from
tipnut.com
.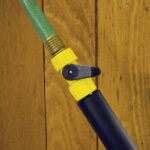 Telewash attaches to a standard garden hose and has an on/off valve to adjust the water flow and help conserve water. It has an ergonomic rubber non-slip grip and is made of anodized aluminum which won't rust. Its telescopic extension handle easily adjusts from 3 to 5 feet in length. The ergonomic brush design cleans under deck rails, gets into corners and helps push debris out of the way. The brush is chemical resistant so it can be used with many types of cleaners.
We've revolutionized deck cleaning. Join the revolution.
This is Woodmates. FINISH. UP.