Made in the USA Since the Beginning
Lately, more and more US consumers are starting to move towards buying American-Made products. Without a doubt, we are excited to see this shift in consumer's attitudes. We have been a proponent of buying and manufacturing products in the USA since our founding in 1958. Why is this? Why would companies trying to make money voluntarily spend more on labor and materials than competitors manufacturing in China and other low-cost countries? Well, we cannot speak for others, but we can be transparent about why we make the majority of our hand tools in the USA. By learning why we believe so much in Made in America, we hope it will motivate more businesses and consumers to continue and increase purchasing more American-Made products.
To understand why Made in the USA is so important to Mr. LongArm one has to start with our founder, RD Newman. A World War II veteran, RD was a patriot who cared deeply for his country and community here in the Kansas City metro area. That love of country and community of course funneled down to his children who now run Mr. LongArm. But love of country does not come close to fully explaining why Mr. LongArm has made most of our hand tools in the USA since 1958. In addition, there is a slew of other ethical and practical reasons why almost all our telescoping extension poles and attachments are made stateside.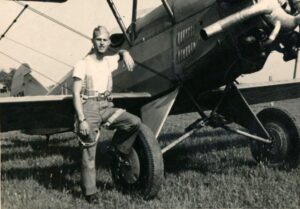 Ethical
As mentioned above, Mr. LongArm was founded by a patriot and continues to be run by people that love the United States. We believe in doing what we can to stimulate our local and national economies while maintaining a successful business. We stimulate the economy by hiring U.S. citizens, utilizing American-Made materials in the construction of our products, and selling to U.S. businesses/retailers big or small.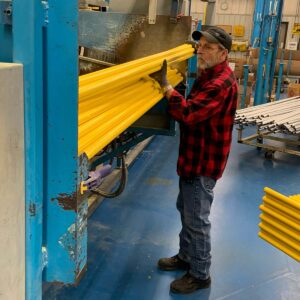 Speaking of hiring U.S. citizens, that is a primary ethical reason for making the majority of our hand tools in the USA. R.D. founded Mr. LongArm as a place where employees could provide for their families in a safe and comfortable work environment. In contrast, most companies that have outsourced their production don't really know about the working conditions of the people making their products overseas. Mr. LongArm will always put our employees first; we are committed to their welfare.
Practical
Made in America is synonymous with quality. The ability to control the quality of our extension poles and attachments is our #1 reason why we make our products here. Our skilled production teams take pride in their work and their commitment to quality leads to a better overall product. In addition, we utilize our own injection molding and fiberglass pultrusion system allowing us to control the quality of our most essential aspects of product construction.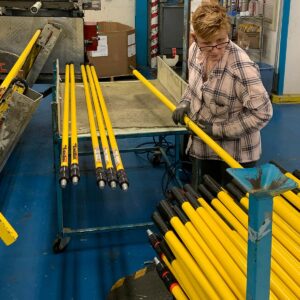 The other main practical reason is less interruptions and outside influences on producing and shipping our products. Many companies that outsource production struggle with interferences in their supply chains, we for the most part, do not. Because of minimal interferences, we can support our customers in a timelier manner. In a nutshell, keeping production here has led us to achieving better quality and better customer service.
Global
US consumers are not the only people who want quality products, citizens all over the world have long associated Made in the USA with quality and value.  Mr. LongArm International has been exporting our products globally for over 50 years.  All of our products have tri-lingual labeling in English, French and Spanish.

In Conclusion

We hope all of this helps you understand why it is not only important for consumers to purchase more American-made products, but also for more companies to start making products in the USA. We mark all of our products made domestically with a "Made in the USA" emblem. It is our hope that consumers and other businesses continue to recognize that by purchasing products that are American made we are all playing an important role in keeping Americans employed and helping maintain a strong economy.
Mr. LongArm's red, white & blue floor merchandiser helps retailers promote our American-made extension poles.
Related article: An Extruded Aluminum Manifesto