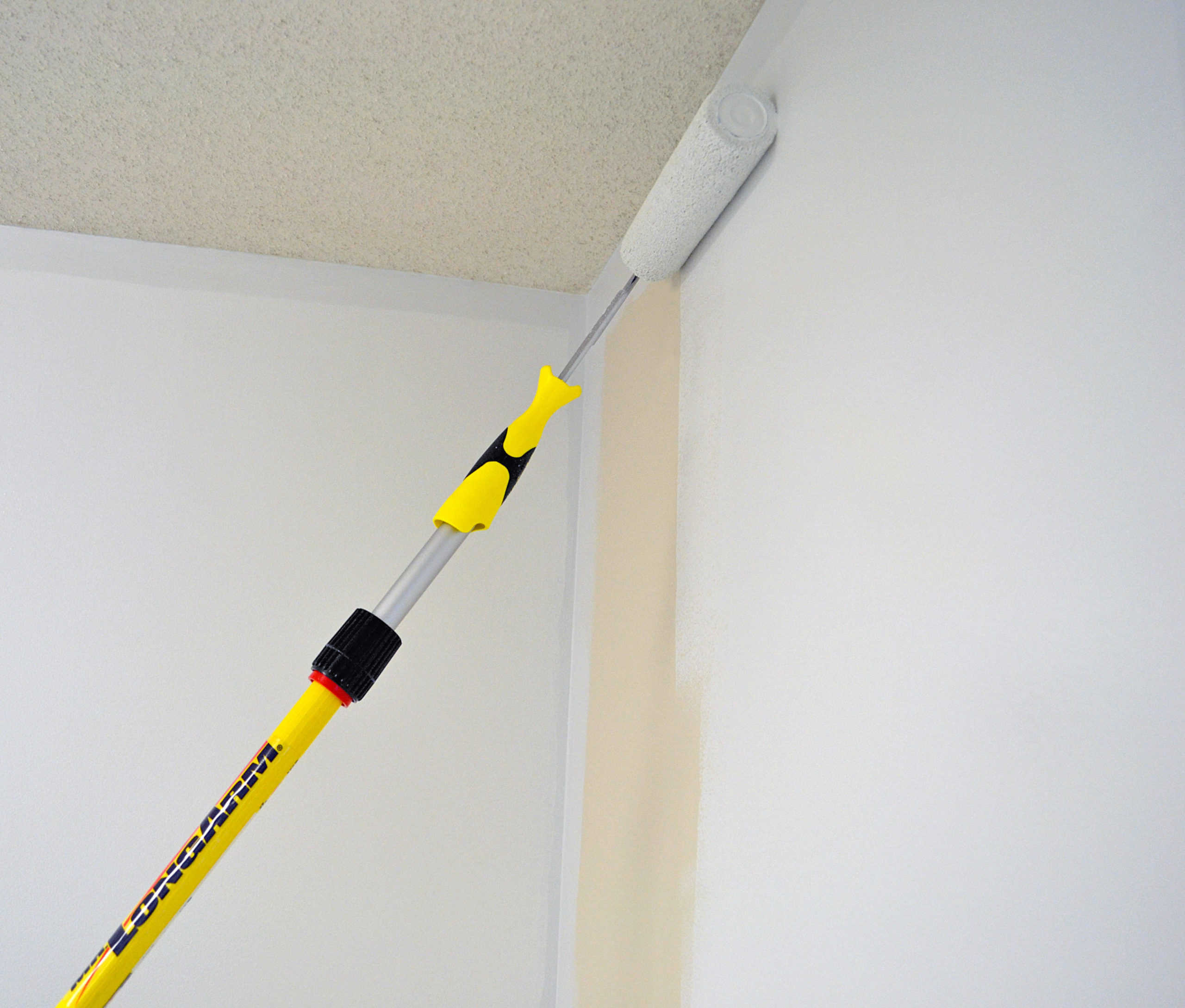 Pro-Pole® Extension Pole
Medium duty Pro-Pole is one of Mr. LongArm's most versatile extension poles. Pro-Pole can handle nearly any job you can think of from painting, dusting, window cleaning, fruit picking and more. It's durable yet lightweight with a comfortable fluted grip.
MORE INFO
Tool Storage Stand – Easy Assembly Video Guide
Our Tool Storage Stand holds and organizes up to 24 long-handled tools with handles up to 1.375″ in diameter. From rakes and brooms to extension poles and mops there's no more need to pile everything in a corner.
PRODUCT PAGE
Mr.LongArm, Inc. was the first company to offer telescoping extension poles and continues to lead the industry in their development. We utilize composite technology in the manufacture of tubing for extension poles that provides increased strength, durability, rigidity and versatility.
We offer many styles of extension poles and accessories that help you get the job done fast! From our shortest 1-2 ft poles to our longest 8-23 ft poles, there's a pole to help you access those hard-to-reach areas. Our product line-up includes painting and staining tools, window and solar panel cleaning equipment, cleaning brushes, bulb changers, letter changers, equine products and more.
Testimonials
Just a quick note to say thanks for making such great products. I dreaded and put off my power washing and then staining my large two tier deck with about 200 spindles, but then the paint expert at Menards recommended your 9" Standard and Contour Stain Applicators. Yes, there was still work involved, but I found your products are fantastic for both their superior quality and the time saving attributes of your Contour model for spindles. I'll never use anything else for refinishing my deck. Thanks again. You're the best!

Ronald OgleEnd User

"Just wanted to tell you how great your 24 foot pole is. I painted my two story wood siding house with it very quickly with no problems at all. Saved me thousands of dollars on painting the house and I did not have to risk my life almost 30 feet in the air. I will never paint from a ladder again. I also recently purchased your paint brush holder. Your products are of super high quality. Thank you!"

Mark KirbyHomeowner

"I put off staining my deck and pergola for three years because I knew it was going to be a big job, more so for the pergola since there are so many intricate parts to it. Last week I bought your Flex Core Stain Applicator and began my staining. This applicator worked great. I was able to stain the top of the pergola in an afternoon. There were a few times the wood splinters and exposed screws would snag onto the applicator pad, but I could not tell where they have cut into the pad… This product is amazing! I just thought I'd have to share my success story with your company. Thank you very much!!"

Joe RosebrockHomeowner

"Thank you for making a job SO much easier with your Woodmates 12" premium stain applicator! I always say that if it sounds too good to be true, it probably is. NOT in this case. We have a huge deck and it is quite an arduous task to stain it. In the past, I have used a roller, but it gets so heavy and I don't feel it gets into the grain. The price almost deterred me from buying as I wasn't sure how it would hold up, but it held up well. I highly recommend it! It gets a 5 star rating from me!!"

Linda JohnsonHomeowner

"The Urban Farmers is an all-volunteer non-profit organization located in the East Bay of San Francisco. Our focus is to reduce food waste and help the hungry by harvesting backyard fruit for donation. We are avid users of Mr. LongArm Pro-Poles that we use as fruit picking poles. The Pro-Pole 3208 is universally loved and appreciated by over 2,300 volunteers that help us each year. Mr. LongArm's donation enables our volunteers to reach higher fruit without a ladder."

Siamack SioshansiThe Urban Farmers