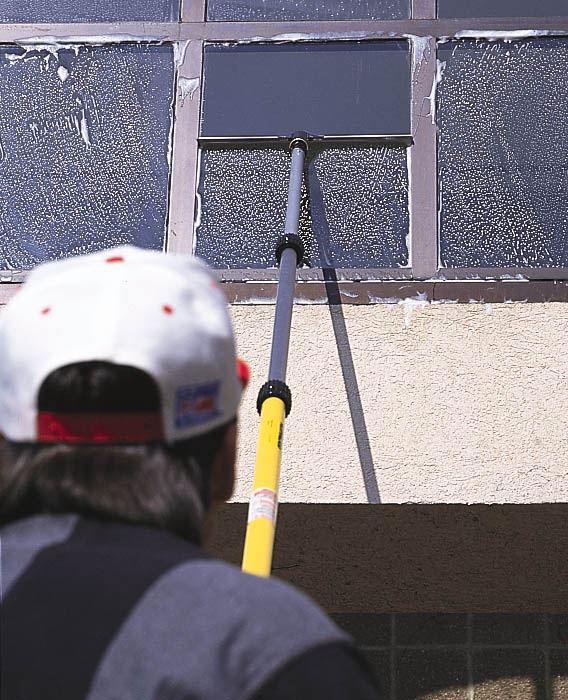 Alumiglass® Extension Poles
Mr. LongArm's Alumiglass® Telescoping Extension Poles are the perfect heavy duty poles for all your professional and Do-It-Yourself needs. Versatile Alumiglass is an excellent extension pole for painting, window washing, light bulb changing, dusting and much more. Choose from 2 and 3-section models. Alumiglass extension poles are proudly MADE IN THE USA!
MORE INFO
Alumiglass® 3-Section Extension Pole
Mr. LongArm's Alumiglass® Telescopic Extension Pole is the perfect heavy duty pole for all your professional and Do-It-Yourself needs. Alumiglass is well suited for a variety of uses such as painting, staining, dusting, window cleaning and more. The Alumiglass has a smooth fiberglass handle with a rubber hand grip for a comfortable no-slip work day. The slider is quality anodized aluminum and won't rust plus anodizing allows the pole to extend and collapse more smoothly. The heavy duty metal threaded end fits all types of threaded tools, and the Lok-thread® prevents tools from loosening during use. The Alumiglass Telescopic Extension Pole utilizes an external chuck & collet locking device that provides a secure lock at any length. With 4 different lengths available, there is an Alumiglass extension pole perfect for nearly any situation and they are proudly MADE IN THE USA!
MORE INFO
Extension Poles & Attachments
Mr. LongArm, Inc. was the first company to offer telescoping extension poles and continues to lead the industry in their development. We offer many styles of extension poles, extension pole attachments and accessories that help you get the job done fast! From our shortest 1-2 ft poles to our longest 8-23 ft poles, there's a pole to help you access those hard-to-reach areas. Our product line-up includes painting and staining tools, window and solar panel cleaning equipment, cleaning brushes, light bulb changers, letter changers, equine products and more.
READ MORE
Testimonials
"The best feature is Mr.LongArm's positive locking mechanism, its easy. Other brands have more of a lengthy button and you have to hit it in just the right spot and it doesn't always go. This is simple, it clicks in place easily and its plenty sturdy even when fully extended. It's ergonomic and very robust, you can really put some pressure on it if you want to. It's a good product."

Chris HatfieldDayco Painting, Inc.

"This has got to be one of the best home repair items I have used in a long time! Today, there is a ceiling that has to be almost 20 feet tall that had two nail pops and I was unable to reach it. I got my extension pole and pushed the nails back in, but what about doing the repair? I used the tool extension holder, attached a small putty knife, added a dab of drywall compound and was able to reach the two areas and now they are covered! I just need to let it dry, add on my sanding block with the extension pole and sand the area, then use the tool holder to add a paint brush or mini roller and I'm finished!"

Mr. SpencerEnd User

"Just a quick note to say thanks for making such great products. I dreaded and put off my power washing and then staining my large two tier deck with about 200 spindles, but then the paint expert at Menards recommended your 9" Standard and Contour Stain Applicators. Yes, there was still work involved, but I found your products are fantastic for both their superior quality and the time saving attributes of your Contour model for spindles. I'll never use anything else for refinishing my deck. Thanks again. You're the best!"

Ronald OgleEnd User

"Just wanted to tell you how great your 24 foot pole is. I painted my two story wood siding house with it very quickly with no problems at all. Saved me thousands of dollars on painting the house and I did not have to risk my life almost 30 feet in the air. I will never paint from a ladder again. I also recently purchased your paint brush holder. Your products are of super high quality. Thank you!"

Mark KirbyHomeowner

"I put off staining my deck and pergola for three years because I knew it was going to be a big job, more so for the pergola since there are so many intricate parts to it. Last week I bought your Flex Core Stain Applicator and began my staining. This applicator worked great. I was able to stain the top of the pergola in an afternoon. There were a few times the wood splinters and exposed screws would snag onto the applicator pad, but I could not tell where they have cut into the pad… This product is amazing! I just thought I'd have to share my success story with your company. Thank you very much!!"

Joe RosebrockHomeowner
Community Giving