Extension Poles

The First Telescoping Pole and Still the Best!
Often imitated, but never duplicated, Mr. LongArm has designed and manufactured telescoping extension poles since 1958. That's when our founder, R.D. Newman, invented the first aluminum telescoping extension handle. Thanks to R.D. professional painters no longer had to resort to climbing ladders to reach high/awkward spots, thus saving them time and money along with preventing injuries. While Mr. LongArm still produces telescoping poles for professional painters, we have also expanded our product line to accommodate every skill-level of DIYer. It could be painting a small bedroom or finishing the exterior of a two-story house. No matter the project you can bet Mr. LongArm will have the perfect extension pole for the job.
Widest Variety of Telescoping Poles on the Market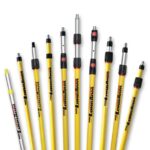 We offer 18 different extension pole series with models that range in height from 4 feet all the way to 23 feet. There is no other company that can offer what we can with poles manufactured from all aluminum, all fiberglass, or fiberglass handles with aluminum slider tubes. Each material has its own advantages that make our poles perfect for a wide variety of jobs. More choice means there is no project we don't have a solution for.
While our bread and butter will always be painting and staining, we also offer extension poles for solar panel and window cleaning, washing cars, trucks, or boats, dusting, changing light bulbs and much more. Anytime someone needs to extend their reach we can help.
Made in the USA Quality and Pride
Unlike most of our competitors, 17 of our 18 different telescoping pole series are manufactured in the heartland of America. We are committed to making as many products stateside as possible and in doing so we produce a higher quality product. The only imported extension pole series is our Twist-Lok Steel and it is made in Italy.
Showing all 17 results