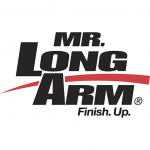 APPLICATION FOR EMPLOYMENT
Mr. LongArm, Inc. • P.O. Box 377, Greenwood, MO 64034 • (816) 537-6777
WE PERFORM BACKGROUND CHECKS AND DRUG SCREENS
THIS APPLICATION IS NOT AN EMPLOYMENT CONTRACT, but merely is intended to evaluate suitability for employment. It is the policy of the company to provide equal employment to all qualified persons without discrimination on the basis of sex, race, color, religion, age, marital status, national origin, citizenship, disability, veteran status, or any other status protected under state and federal law. It is also the policy of the company to have the option of conducting pre-employment screening before a job offer is made. If a job offer is made, employment may be contingent upon the successful completion of a medical examination, which may include providing body substance samples. You may request any reasonable accommodation to participate in the application process.
You can submit this form, when completed, by clicking SUBMIT at the bottom of the page. Or, for your convenience, you can click SAVE AND RESUME at the bottom of the page to complete later if needed.
This application will remain active for 180 days.