With so many interesting uses for our products, manipulating objects outside of our reach has been an important part of the evolution of the "tool". It may seem contrary to intuition but the extension pole as we know it didn't exist before 1958 when R.D. Newman invented it. Before that human beings had to climb or hang or strain to reach higher. And since then we have found all sorts of uses and attached all sorts of apparatus to our extension poles. Mr. LongArm is forever dedicated to optimizing human performance.
Below are just a few of the more interesting uses for our products sent to us by our fans:
1. How to Clean your Dino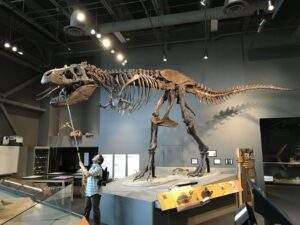 Loran Berg from the State Historical Society of North Dakota sent us this photo. After not being able to locate the exact tool he needed, Loran got creative. He attached a flexible tip to the top and a vacuum to the bottom of our Pro Pole and made a dino-sized toothbrush for his T-Rex buddy.
2. How to turn fish tales into fish facts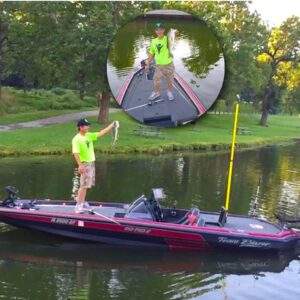 YOLOTek's "The Boom" is a specialty mount made with our Super Tab-Lok and a high tech outfit of proprietary mounting hardware to turn your fishing boat into an on the water GoPro movie studio! If you're into sport fishing you really need to check them out!
3. How to turn left and left and left and left…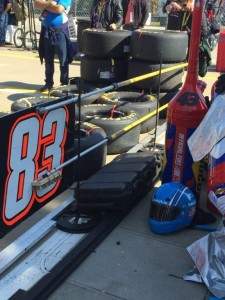 Mr. LongArm has a long time relationship with NASCAR and other racing sports. For years our products have been found wielded by pit crews and members of the sports media, used for everything from pit signs to windshield scrubbers to boom mics. Whoever your favorite driver we're probably somewhere near-by helping chase that checkered flag.
4. Long distance power washing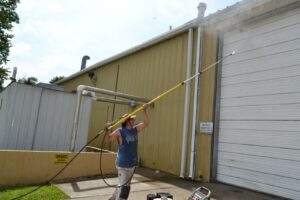 Sound like an event at the Summer Olympics? Nope it's a pole to help you power wash something high above your head. Bledsoe Rentals has devised this interesting solution. Three story house or commercial sized garage bay doors, doesn't matter, if its dirty Mr. LongArm can get you there.
5. Nab that Lunker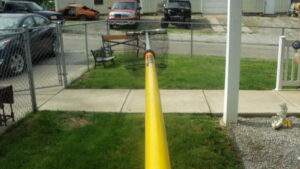 Another fishing invention! We were sent a link to an online fishing forum where user "justcameslabdaddy" used our 6′ – 12′ Pro Pole and a net he picked up from a local retailer to build the ultimate crappie net! Check out the above link to see how he did and what other products he used.
6. How to Decorate for any Holiday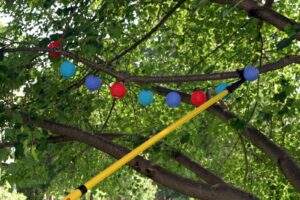 Adding a "boat hook" to the end of one of our extension poles will create the ultimate decorating helper. Fiesta lanterns to Christmas lights, party streamers to happy birthday signs, if it gets hung up we can help! See our blog post on how to create your own hook for hanging lights.
7. We Do DIY All the Way to DOD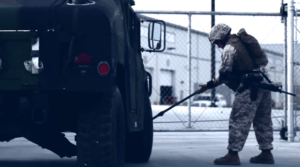 Tactical Electronics has used our extension poles in a number of special forces focused products, such as the Urban Search and Rescue Kit. The USAR Kit uses the leverage and extended reach of our extension poles to allow real-time video streams to the included monitor system. Used by both local law enforcement and the US military, Tactical Electronics has been helping make dangerous environments safer for our police and military personnel.
8. Extension Hook for your Extended Bed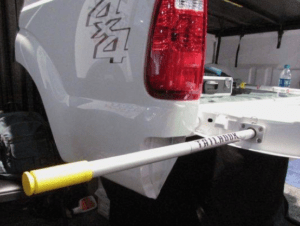 "Say good bye to digging around in the back of your truck", so says TheHiddenHook.com! This handy little device allows you to reach the front of your truck bed while standing firmly flat-footed on the ground. Hay, tools, groceries you name it the Hidden Hook will help you put it in reach.
9. Helping Climbers Reach to New Heights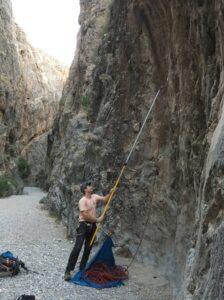 You'd think that the top of a precipice would be the most hazardous place for a climber, but in all actuality some of the most painful injuries occur 10-15ft off the ground and before the journey even begins. Enter "Stick Clipping"! Using an extension pole (we recommend our Alumiglass telescopic extension pole) and this Superclip or similar device, the climber is able to attach their rope to the first carabiner on the route without having to leave the safety of the ground, thus preventing the possibility of injuring themself prematurely.
10. Training Football Players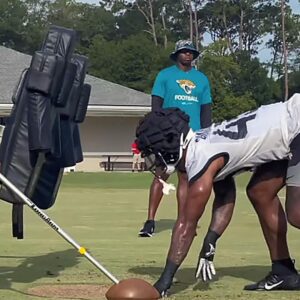 The NFL's Jacksonville Jaguars, are putting a Mr. LongArm Twist-Lok pole to good use on the training field with this football on a stick. A football on a stick helps train offensive linemen to react quickly to the snap. Trains players to react to the ball, not cadence. Extendable pole allows special teams coaches to stand instead of kneeling so they can see the entire line of scrimmage.
11. High Flying Flags
Red Bud MX is a US motocross race track located in Buchanan, Michigan, USA. The track is located just north of town, surrounded by agricultural farming fields. It is home to one of the largest motocross tracks in the Midwest and is favorite to many pro riders. It's also known to have "The best dirt on earth." Darragh O'Brien of Ireland, recently sent us these pics from Buchanan. Darragh discovered our 3-section extension poles make great flag poles especially at events like this. He told us "Best poles money can buy, it carried the best of the best flags all around Redbud."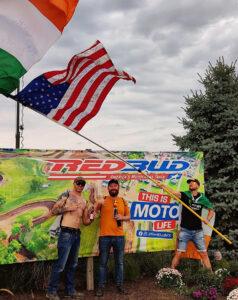 Whether helping you paint your celling, care for prehistoric fossils, or reach out into the cosmos, our customers have found some extraordinary uses for our products. Nothing makes us happier than knowing we're helping fellow humans in whatever endeavor they wish to embark by making quality products with the express purpose of optimizing human performance.
Have you used one of our products for something other than what you've seen on our website or social media? Have you seen our poles being used for some other unique purpose? Send us a pic, or tag us in a post, be sure to include your source so we can give them credit. We'd LOVE to hear from you!