What Pole You Should Buy Depends on Several Factors Including:
The length you need to successfully complete your project.
How often you'll use it determines the duty rating you need.
Material preferences. We offer steel, aluminum, fiberglass and fiberglass/aluminum poles.
Your locking mechanism preference. Twist-Lok, Compression Locking or Positive Push-button Locking.
No company offers the depth of selection when it comes to telescoping extension poles that Mr. LongArm does. Our poles are available in a variety of lengths, weights, and locking mechanism styles. In order to help you determine what pole you should buy we created this info graphic to help you quickly select the right pole for your next project. It is based on some common uses for our extension poles but there are many, many more. For some ideas of the non-traditional uses our customers have found for our extension poles, click here.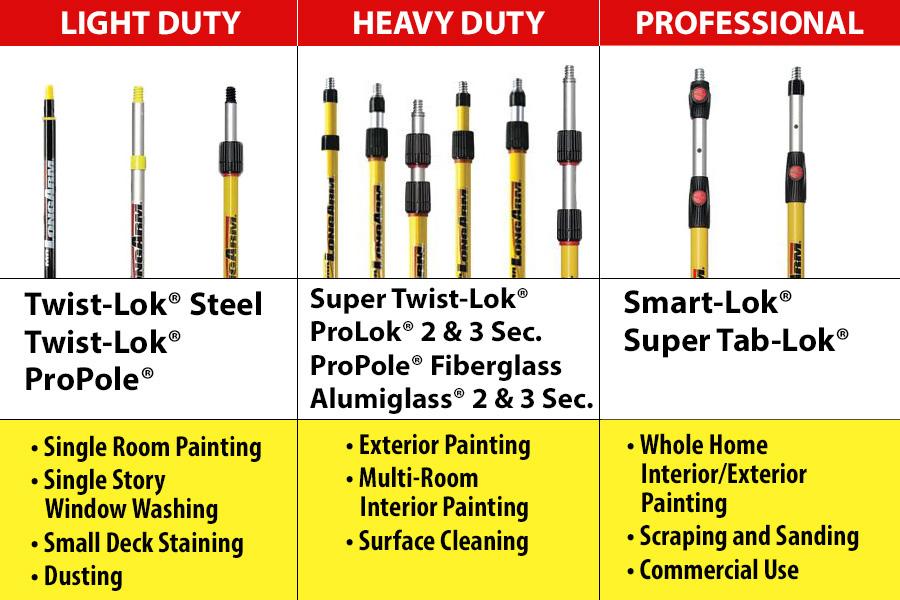 For Additional Help
You can also check out this extensive post Picking the Best Extension Pole for the Project for more help determining which pole you need. For any additional questions be sure to contact Mr. LongArm's friendly customer service at 1-800-821-3508. You can also use our contact form to submit a question or locate our products for purchase.