How do you "Pick the Right Pole for your Project"? If you look through our product catalog you'll be inundated with the breadth of our extension pole product line.  Different lengths, materials, threaded ends, fluted, fixed length – the list of options goes on and on. With so many different extension poles to choose from we figured it would help to provide a guide.
Begin by asking yourself these three questions.
1. What will I be using the pole for?
2. How often will I use it?
3. How high, or far, do I need to reach?
The answers to these questions will help you narrow down your selection. An example: A homeowner who will be painting the outside of their home this summer. They will want to use this pole to paint their interior sometime later this year. Their home is two stories and they have a cathedral ceiling in their home's entryway.
Because of the multiple uses and high reach needed, you will want to choose a heavy duty or professional extension pole. Also, when determining the length of extension pole to purchase the following rule of thumb applies. Your height minus 6″ plus the length of a fully extended pole equals the height you will be able to reach. Most two story homes will require you to use at least an 18′ extension pole.
A heavier fiberglass pole suitable for painting may not be the best choice if you plan to use it only for dusting. For dusting you can choose a lightweight aluminum or steel extension pole. When choosing between aluminum or steel poles, most aluminum poles and sliders are anodized which prevents rust and provides a smooth extension. Steel poles can rust over time so don't purchase a steel pole if your application requires contact with water.
Water-fed Poles & Brushes
If you have a task that requires the use of water, Mr. LongArm offers two styles of water-fed poles to be used in many different outdoor cleaning situations. The HydraSoar and TeleWash extension poles can be connected to a standard garden hose via a flow control shut-off valve. Using various styles of brushes you can clean decks, siding, patios, windows, boats, RVs, automobiles, masonry and many other surfaces. Using a flow-thru angle adaptor you can also clean gutters or water hanging plants.
All Fiberglass Poles
If you need a pole to change light bulbs you definitely need to choose a pole with a fiberglass handle or even better one with a fiberglass slider as well. Fiberglass is heavier and more rigid than other materials but more importantly it is non-conductive under most circumstances. That makes it much safer to use around electricity than metal poles. Since, we're on the subject, extension poles should never be used around electrical wires. Be sure that while you are extending your reach to finish difficult jobs you are not inadvertently reaching up to electrical wires since most extension poles are highly conductive.
Locking Mechanisms
Internal Twist Locking
Twist locking extension poles, usually aluminum or steel, offer a good lock with the versatility of locking at any length. Mr. LongArm Twist-Lok poles are bi-directional and lock with a twist in either direction. These poles are lighter and are the easiest to handle. They are great for the DIYer and best used in combination with other light-weight attachments like squeegees or painting tools.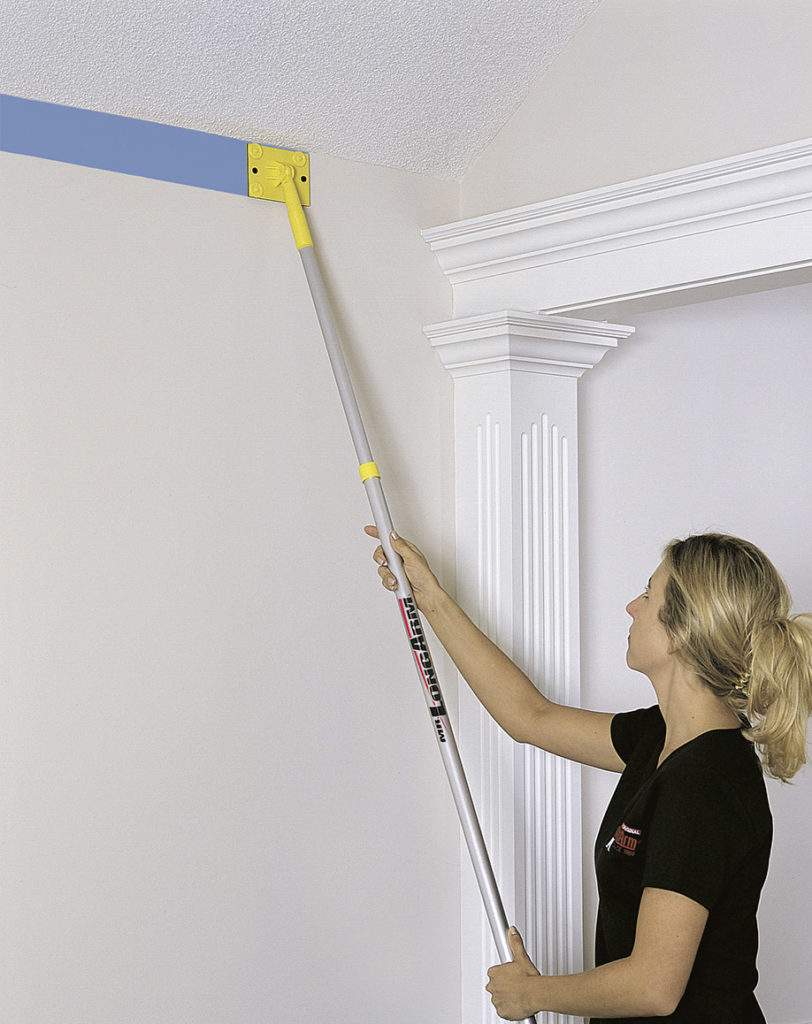 Compression Locking
Compression locking extension poles, such as our Alumiglass or Pro-Lok Poles, also provide the versatility of locking at any length and are available in two and three section extended length poles. Mr. LongArm also offers three section poles that extend up to 23′. These poles have the longest reach and are great for painting or cleaning 2-story structures.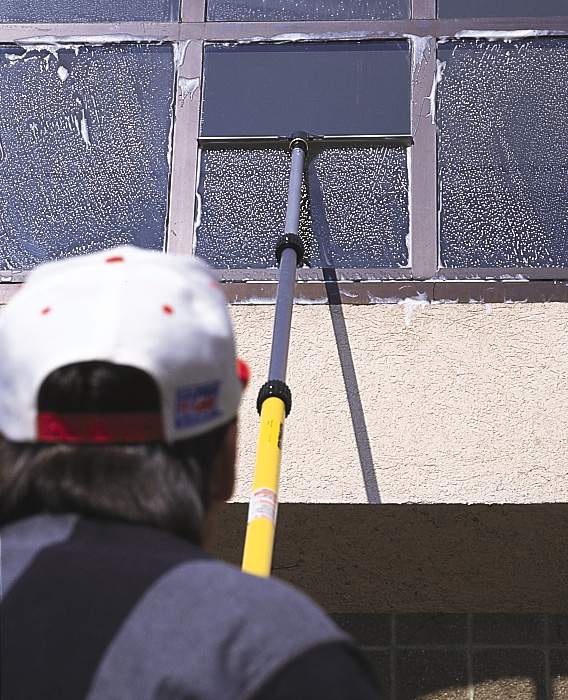 Push Button Positive Locking
Positive locking poles are popular with most paint contractors since they provide a push button locking device and are faster to change lengths. This type of locking mechanism is found in our Smart-Lok and Super Tab-Lok line of poles. You will want to choose a positive locking pole for prep work such as sanding and scraping since these activities require applied pressure. Positive locking poles only lock in pre-set lengths, 1-2 ft and 2-4 ft poles lock every three inches and all others lock every six inches. Smart-Lok poles also offer a push button tool changing system as opposed to fixed threads.
The Smart-Lok system, is universal and will work with most standard threaded tools. Smart-Lok is an excellent choice for multiple color changes and really increases your productivity. One last big advantage to these two poles is they are easy to service if paint or something else interferes with the button. All the user has to do is pop the button off and remove the foreign substance or object inhibiting the lock.
Still Need Help?
Armed with this information, as well as your own personal preferences and budget, you should be able to make an educated decision about which extension pole is right for your project. Mr. LongArm extension poles are found in the paint department at many local hardware stores and home centers.
If you still are unsure about how to pick the right pole for your project. Call our customer service department at 1-800-821-3508 and we will be happy to assist you. You can also try our Pick-A-Pole App.
To keep up with Mr. LongArm on social media, follow us out on Facebook , Instagram & Twitter.