Product Details
Loading Product Information...
*Sizes reflect the industry standard for extension pole lengths. For the most accurate measurement see SIZE in the chart above.
Reviews
Verified Customer
Reviewer
More durable than all competitors!!
I like it because it's made more durably than all the competitors. Made in Missouri. Thanks a billion. Y'all earned this!
– BPK (via Amazon, March 26, 2023)
6 months ago
Verified Customer
Reviewer
Surprise me how easy this is to use! I really had no clue how this was going to hold the lightbulb, but it does! My first attempt was a floodlight and this made my job so easy! Very glad that I purchased. It arrived fas
...
Show More
1 year ago
Verified Customer
Reviewer
Smart bulb changer. OMG! I am so happy with this suction cup bulb changer!!!! I have 3 alcoves in my hallway and had a huge problem with being able to change the ceiling light bulbs!!! There is absolutely no way I am ab
...
Show More
1 year ago
Our Best Light Bulb Changer Kit
Mr. LongArm's Light Bulb Changer Kit can simplify one of the more frustrating tasks for a home or business owner, changing those hard-to-reach bulbs. It can require lugging a cumbersome ladder through doors and hallways along with a dangerous climb up the aforementioned ladder. The entire process takes time and risks damaging walls and doors with the ladder.
Instead of using a ladder, take advantage of Mr. LongArm's Complete Light Bulb Changer Kit. Included are three different suction cup style bulb changers that will replace or remove floodlights, spotlights, and standard-shaped incandescent/LED bulbs. The Kit also includes one of our non-conductive fiberglass extension poles. With an all fiberglass build this pole is durable yet lightweight.  While most of our competitors utilize aluminum or steel in their light bulb changers to cut costs, we do not so we can keep our kit completely non-conductive (120/240 voltage). Unless the extension pole becomes contaminated with moisture, water or other conductive liquids this is the safest way to change a light bulb currently on the market. Our famous chuck and collet locking system allows users to lock the pole at any length and is easy-to-use.
Change Almost Any Type of Light Bulb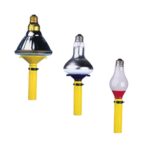 Most companies offer one type of light bulb changer and claim it works on any type of bulb. We do not do this as light bulbs come in many different shapes and sizes. Claiming a changer that is only one size will work perfectly for any type of bulb is disingenuous marketing. Instead, we have created three different high quality suction-cup style light bulb changers that will allow the user to actually change any type of light bulb. The small red changer works best for incandescent/led bulbs. Meanwhile the medium sized blue changer is perfect for spotlights. Finally the yellow changer, which is the largest changer we have, is best for floodlights.
3 – 6 Foot Non-Conductive Extension Pole
Included in the Complete Light Bulb Changer Kits is our 3 – 6 foot Non-Conductive Fiberglass Extension Pole, which gives the user up to a 12 foot reach. What sets this telescoping pole apart from competitors is the all fiberglass and plastic construction. Thanks to the lack of metal parts in this light bulb changing pole it will not conduct electricity unless contaminated by moisture, water, or other conductive liquids. In comparison, most of our competitors utilize aluminum or steel poles that could leave the user open to getting electrocuted. Finally, the pole utilizes our easy-to-use chuck and collet locking mechanism that provides a secure compression lock at any length.
Bulb Replacement for Indoors or Outdoors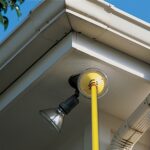 Our suction-cup style light bulb changers were designed to be used on almost any type of bulb both indoors and outdoors. Floodlights or spotlights on the side of your house are not a problem, avoid risking injury on a ladder and use our light bulb changing kit instead. The same holds true for changing indoor high ceiling light bulbs. In addition, our non-conductive extension pole is durable and can stand-up to the rigors DIYers will put it through, unlike cheaply-made overseas competitors.
High Quality Construction and Easy-to-Use Design
Our light bulb changers are made of high-quality materials to ensure safety and effectiveness. Instead of utilizing any metal parts, we went with non-conductive rubber and plastic to create the safest bulb changers currently on the market. Along with being safe, these changers are extremely simple to use. We include instructions with the kit and you can find a link to one of our videos here. See a more in depth video below.
Entire Kit is Made in the USA
When you buy our complete light bulb changer kit you are supporting American manufacturing and American workers. Customers can also expect unmatched quality that goes along with making a product in the USA. The light bulb changing pole and suction-cup changers are all made in the USA from the highest quality materials available.
*Light bulbs not included.