The ceilings in our homes are often bland and boring, for years the white ceiling has been all I have seen when walking into a house, but lately that has changed.  A growing trend amongst homeowners has been painting their ceilings vibrant colors to give their home's interior a more cheerful and eclectic mood.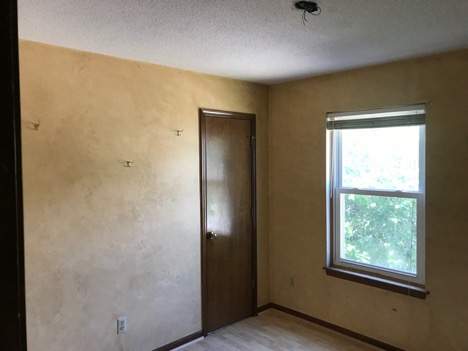 Previously when you've redesigned a room how much attention did you pay to choosing the wall color? The art that covers much of those walls? How about the flooring? The furniture and rugs that cover that floor? Now what about the ceiling? The human eye is drawn to contrast, even with richly painted walls and perfectly matching floors, the first thing a person is going to notice is your bright white (probably pop-corned) ceilings. So how does one craft an equally aesthetically pleasing topper to a nearly perfect living space?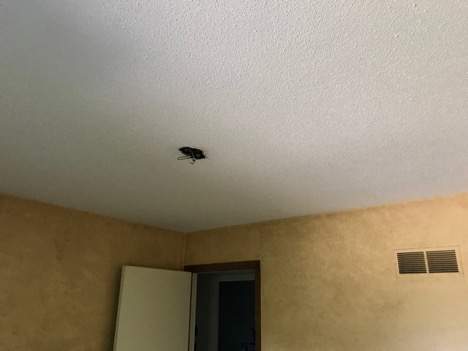 Want Some Popcorn with That?
The first question you need to answer is whether or not you want a textured ceiling. A majority of homes in the US and Canada built in the last 30 years are going to have popcorn ceilings. While popcorn ceilings help hide imperfections and slightly deaden noise, they are hard to clean, difficult to repair or paint and frankly look outdated. Also, if you're house was built prior to 1977 you should consider having your popcorn ceiling tested for asbestos. If you want to keep the textured ceiling but add some color, treat it like an accent wall. Paint the ceiling first using a ¾" nap roller cover. After the 2nd or 3rd coat, use a paint brush, or an even better option, the Mr. LongArm SMART Edger, to cut-in where the ceilings and walls meet. Now lets take a look at the process for removing the texture from your ceiling if you've chosen that path.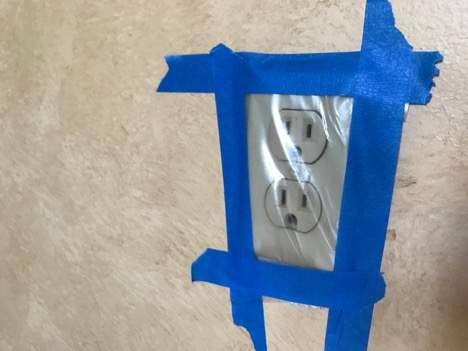 REMOVING THE POPCORN TEXTURE
Removing the popcorn ceiling texture isn't a hard project, but it will take some time. We recommend using the following tools to speed things up:
Small Pump Tank Sprayer filled with water
8" Steel Scraper with either an 18" handle or threaded end to attach to a MLA Extension Pole
Painters Tape
Plastic Sheeting
Box Knife
Drop Cloth or Tarp
Screw Driver and Ladder (if there is a ceiling fan in the room)
Prepping the Room 
To start, the dust and debris from scraping popcorn ceiling can get all over your house and even clog your homes ventilation system if you aren't careful. We recommend shutting off your heater or AC (and maybe opening a window if weather permits) until after you are done and the area has been cleaned up.
Our project room had a ceiling fan, so we also shut the power off at the breakers and removed the fan. We also recommend using plastic sheeting to cover all vents and electrical outlets. Use your box cutter and painters tape to cut the sheeting and keep it in place.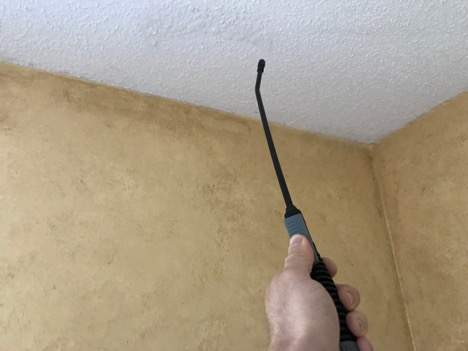 Spray and Scrape Process 
To actually remove the texture, we like to work in smaller 3-4' sections. Place your drop cloth under the section of ceiling you are working on. Use the pump sprayer to completely coat the section with water. Then allow the water roughly 10 minutes to soak. Spraying first will keep the dust to a minimum as well as make the actual scraping much easier. When the 10 minutes is up begin scraping towards the center of the room and move in the direction of the walls. Repeat the sectioning process as many times as it takes to finish the room.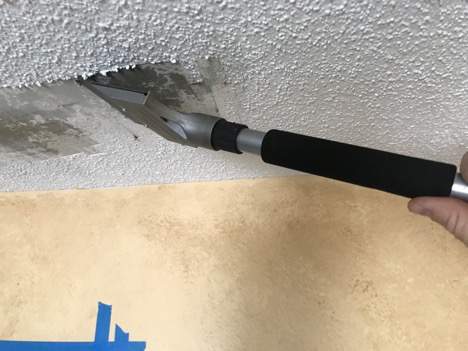 Sanding 
When all the popcorn has been thoroughly removed, using a floor sander attached to a Mr. LongArm extension pole, smooth out and sand down any digs or divots you may have created while scraping. The smoother the ceiling is after this step the better your final product is going to look.
Since the water helps keep the texture material clumped up almost all of the waste should be in your drop cloth, gather it up and take it out to your trash can. Anything left over should be easy work for a dustpan and broom. After you're done cleaning up remove the plastic sheeting from the vents and electrical outlets.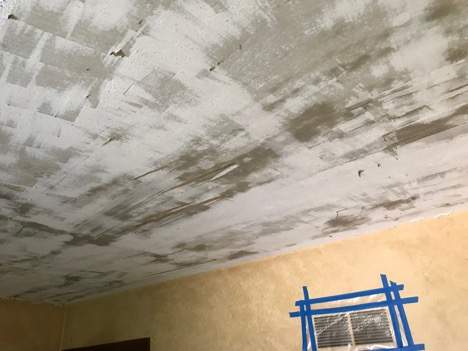 Stay Tuned for Part Two
In Part Two we'll go over color choice and the step by step instructions on how best to paint your newly smooth ceiling. We will also show you our Smart Painter II – a telescopic pole plus roller combo that comes with a splatter guard shield perfect for keeping the paint on your ceiling and not on you or your floors.