About the author: Maureen Newman is VP of Diversified Markets at Mr. LongArm, Inc., Co-owner and Board of Directors Member
---
by Maureen Newman
The 2014 National Hardware Show was a 3 day event and marked the 69th year that manufacturers and resellers of products were brought together under one roof. Well, actually 2 roofs and an outdoor parking lot. Held at the Las Vegas Convention Center, the line-up of exhibitors ranged from Home Improvement categories (like the painting tools MLA manufactures) to Lawn & Garden/Outdoor Living products (such as the hanging Wicker Chair that Linda Fore purchased after show hours then had to figure out how to haul back to KCMO).
Mr. LongArm's National Hardware Show booth went high-tech this year.  The 20'x30' booth featured an 96" TV screen centered 20 feet high with side touch screens showcasing our online interactive tools.  These interactive programs will be available to the public soon – one program called Pick-A-Pole will allow the end-user to choose the correct extension handle needed for the job at-hand based upon a series of prompts.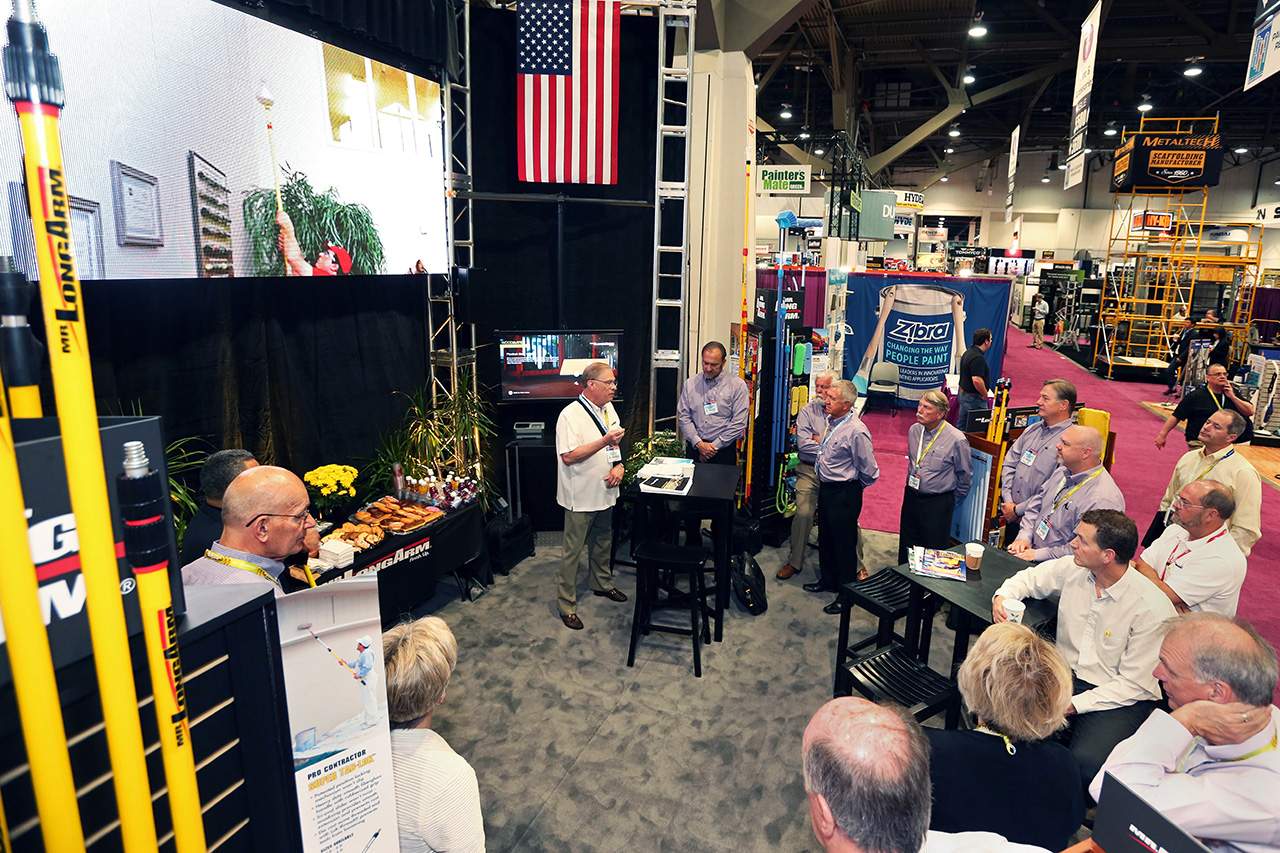 Visitors to MLA's booth included Paint & Hardware retailers, Distributors, Catalog & E-Commerce companies, and a vast number of international visitors from all over the globe.  Thanks to our Social Media Coordinator, Dru, we received several visits from Bloggers so our products were zapped into the Internet world immediately.  We also had visitors dressed as Uncle Sam on stilts, Batman, and a guy dressed up as a chicken.
Working the MLA booth was Dere Newman (President and ring leader), John Kensey (who deserves a pat on the back and unfortunately for him, received a few during the show – he delayed his shoulder operation until after the show), Janice Nachbar who when not busy chatting it up with customers and prospects was caught during a lunch break receiving kisses on the cheek from Joe Namath, Linda Fore who does everything and does it perfectly, Jeb Newman (who also does everything and perfectly), Maureen Newman who at the end of the day, started speaking in a variety of accents after spending the day with our international visitors, and our newest pal, Braxton with Vista Productions, who ran the technical aspects of the booth.
After all the pre-show preparations (special thanks to everyone at MLA), setting the booth…and resetting the booth…then tweaking the set, to hosting an early morning pre-show meeting of our Manufacturer Representative Groups, selling and promoting the MLA brand throughout the show, ending with the fastest tear-down time on record, the end result was an incredibly satisfying and successful show.  On a personal note to Dere, Linda and Jeb who spent countless hours setting up and tearing down the booth:
"The Load Out and Stay"
by Jackson Browne
Now the seats are all empty,
Let the roadies take the stage.
Pack it up and tear it down.
They're the first to come,
And last to leave.
Working for that minimum wage.
They'll set it up in another town.
Tonight the people were so fine.
They waited there in line,
And when they got up on their feet
They made the show.
And that was sweet but I can hear the sound,
Of slamming doors and folding chairs.
And that's a sound they'll never know.
Now roll them cases out and lift them amps.
Haul them trusses down and get'em up them ramps.
'Cause when it comes to movin' me,
You know, you guys are the champs.
But when that last guitar's been packed away,
You know that I still want to play.
So just make sure you got it all set to go,
Before you come for my piano.