Mr. LongArm's green initiatives show how deeply we care about the environment. We do everything we can to eliminate waste, save resources and protect our ecosystems. The products we manufacture typically last for many years but when they don't we can provide the parts to repair them.
Here are some of the steps we're taking:
Manufacturing & Shipping
All plastic waste is reground, none is thrown out. Various colors of material are reground and used for internal parts.
Pultrusion waste is kept minimal, therefore generating far less than a gallon per day. It is air-hardened and disposed of according to code.
Corrugated cardboard is collected and stored until there is enough to ship to a cardboard recycler. No cardboard is wasted.
All aluminum and steel scraps are collected and sent to a scrap metal dealer for recycling. Even the metal banding from pallets is collected and recycled as steel. No metal is wasted.
Our product packaging, both cardstock and plastic clamshell, is recyclable.
All the older pallets received at MrLongArm are broken up and given to our employees to be upcycled or used for home heating. No wood is wasted.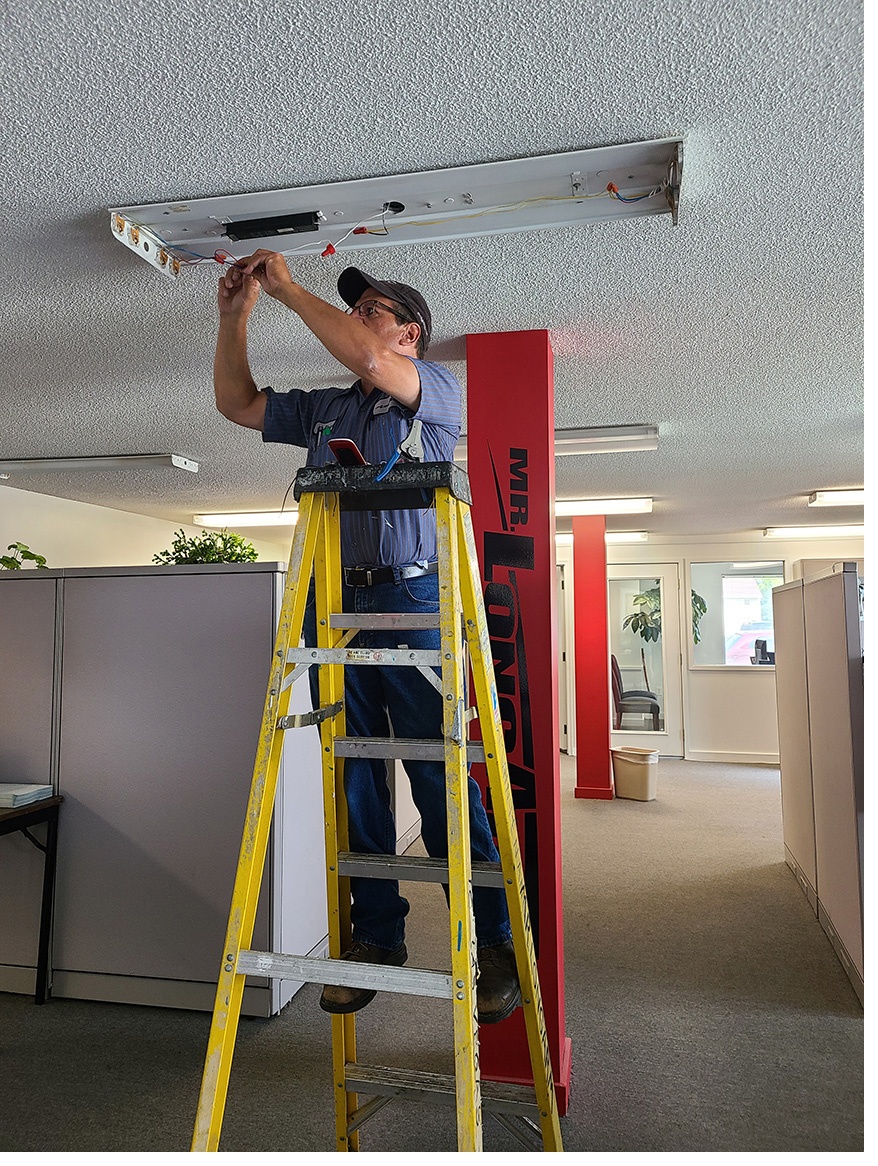 We have replaced all our fluorescent warehouse and office lighting with energy efficient LEDs. All ballasts, fluorescent tubes and copper wire is recycled.
We installed motion sensor lighting where applicable.
Electrical use is closely monitored and conserved. All machines have timers and are turned off when not in use and at night. All transformers and driers are also turned off at the end of shifts.
The Mr. LongArm factory observes healthy practices. There is no smoking, eating or drinking in the work area.
The factory is both heated and air conditioned for the health and comfort of our workers. Recently 4 new high-efficiency furnaces & air conditioners were installed in both the upstairs & downstairs Administration Building.
We provide filtered water for employees in order to reduce the number of plastic water bottles that are used.
All outdated computers and electronics are recycled.
Corporate Offices & Sales
All paper at MrLongArm is collected, shredded and sent to a recycler. No paper is wasted.
All printing, with the exception of packaging, is done in house, saving transportation costs, emissions and waste.
We recycle ink and toner cartridges.
We also recycle aluminum cans and plastic bottles.
Electricity is monitored using timers and meters.
Recycled paper is used for office business.
We reuse boxes and packing materials.
We recycle batteries.